As reported by Freightwaves, a highly reputable source for global supply chain market insights, it's alarming to note that approximately 25% of containers at U.S. ports alone experience damage. When you crunch the numbers, this equates to nearly 3 million shipping containers suffering damage annually.
When shipping your valuable cargo, ensuring its safe and secure journey is of utmost importance. One crucial step in this process is to thoroughly inspect the container assigned for your cargo. This inspection is vital to prevent cargo damage, minimize cargo claims, and facilitate cargo claims recovery. 
External Checklist
1. CSC Plate: Start by checking for a valid Container Safety Approval Plate (CSC Plate) on the container. This plate signifies that the container meets international safety standards.
2. Holes: Examine the container inside and out to make sure there are no holes or tears. Check the top of the container as well to ensure its integrity.
3. Doors: Inspect the container doors for any issues. Ensure that there are no broken, bent, or distorted hinges, locks, locking bars, or rubber gaskets.
4. Tilts/Tarps: If the container is equipped with removable roof tilts (tarps) or side curtains, make sure they fit correctly, have tilt wires, and do not have torn or hole-ridden fabric.
5. Roof Bows and Structure: For open-top containers, confirm that all roof bows (supports) are in place. If the roof is retractable, ensure that the roof bows slide smoothly to the ends of the container.
Examine the container for any serious structural defects, such as cracks or tears in the corner fittings, side rails, and other components.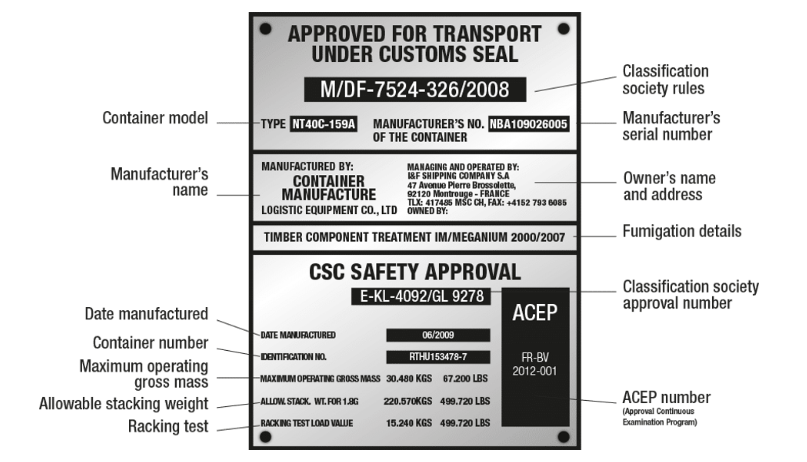 Internal Checklist
1. Clean: The container's interior should be clean and free from dust, spillages, or any debris that could damage your cargo.
2. Dry: Check for any signs of moisture inside the container. It should be dry and free from any sweat or frost, as moisture can harm your cargo.
3. Infestation: Look for evidence of pests, insects, or rodents inside the container. These unwanted guests can wreak havoc on your cargo.
4. Taint-Free: Ensure that no cargo susceptible to damage from bad odors is loaded into the container. This step is crucial to preserving the quality of your goods.
5. Watertight: To test the container's watertightness, enter it and close both doors. If you see any spots of light coming through, it means water can potentially gain entry. This applies to the container floor as well, as water can splash upwards.
Remember, if you find any issues or are not satisfied with the condition of the assigned container for any reason, don't hesitate to ask for a replacement! Your cargo's safety is paramount, and a thorough container inspection is your first line of defense.
Recoupex is a hub of transport lawyers – experts in cargo claims. We assess your case quickly. We have successfully recovered claims from Maersk, Sealand, Hapag-Lloyd, Mediterranean Shipping Company – MSC, CMA CGM, and other carriers.